Bell County Cemeteries
[ TXBELL HOME PAGE ] [ CEMETERY CENTRAL ] [ BELL CO ARCHIVES ]
Robertson Family Cemetery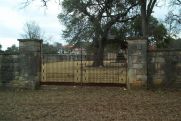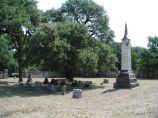 (photos courtesy of Mary Duke)

CEMETERY DETAILS


SITE/GRAVE PHOTOS
(click above link to see marker photos)


RESEARCHERS OF THIS CEMETERY

ADDITIONAL NOTES
The family cemetery is located behind the Robertson home on private property. Orginally the little family cemetery was bordered by upright
cedar posts to protect the site. More recently is was enclosed by a finished rock wall.

The first burial was the daughter of E. S. C. and Eliza Robertson who died at age 7. Her grave is beneath a giant oak tree, said to be a
favorite play area during her lifetime. The other family members, including her father, are buried nearby.
Thanks to Cile Ambrose for allowing our volunteers access to the cemetery!
[ TXBELL HOME PAGE ] [ CEMETERY CENTRAL ] [ BELL CO ARCHIVES ]
2007 Copyright By Joe D. Deaver
Last modified: Sunday, May 06, 2007 10:31:17 PM