Bell County Cemeteries
[ TXBELL HOME PAGE ] [ CEMETERY CENTRAL ] [ BELL CO ARCHIVES ]
New Hope Cemetery
(aka Evergreen, Temple League)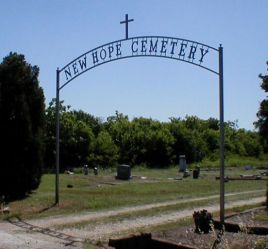 (photo courtesy of Joe D. Deaver)
CEMETERY DETAILS
COMMUNITY
Temple
STILL IN USE?
Yes
LIST OF BURIALS AVAILABLE ONLINE?
Yes

US Geological Survey Coordinates

Available

US Geological Survey

TIGER MAP
Available
US GEOLOGICAL SURVEY TOPOGRAPHICAL MAP
Available
DIRECTIONAL MAP
Available
SATELLITE PHOTO
Available
TEXAS HISTORICAL MARKERS
No
SITE/GRAVE PHOTOS
(Marker photographs coming soon!)

RESEARCHERS OF THIS CEMETERY
ADDITIONAL INFORMATION
(from Patricia K. Benoit of the Temple Cemetery Company)
New Hope Cemetery (Evergreen Cemetery or Temple League Cemetery)
Temple League Cemetery, Evergreen and New Hope are names referring to the same cemetery at different times. Located at East Shell and North 10th streets, directly north of Hillcrest Cemetery, the Temple League Cemetery was officially formed, according to the charter filed with the Secretary of State on September 17, 1913. Association members were prominent African-American leaders: Dr .F. F. Stone, Albert Powers, Monroe Wells, G. Roselle, Mrs. Ed Ratcliff, Robert Wells, J.W. Lewis, Mrs. H.C. Anderson, Mrs. L.G. LeQuey. The purpose of the non-profit corporation was "to provide a place of burial for the dead." No mention of race is included in the corporation's description. The cemetery was called Evergreen Cemetery by Temple citizens.
New articles of incorporation under the name Temple New Hope Cemetery were filed with Secretary of State on April 13, 1978. The registered office at the time was 909 S. 38th, Temple, home of Willie White. Directors were Willie White, James L. Lewis, Hattie Crawford, Helen Harris and John Stonum. Incorporators are John T. Cox, James. E. Walker and James Kreimeyer. Corporation qualified for exemption from franchise taxes on April 13, 1978.
On May 4, 1994, the corporation failed to file current information with Secretary of State. The corporation was dissolved by order of the Secretary of State. Many prominent African-American leaders are buried there, among them:
· Mr. and Mrs. Leon J. LeQuey, pioneer African-American educators. He served as principal, athletic coach and teacher, she as dean, music and elementary teacher. In the early 1920s, they moved to the Bastrop area, where tey completed their careers as educators. After her retirement she united efforts with Helen Scott Saulsbury in the early 1950s to establish Temple's first day-care center in the LeQuey living room.
· Cora Anderson, Temple businesswoman and benefactor of many charitable organizations serving African-Americans, notably Paul Quinn College in Waco and the Cora Anderson Hospital, opened by Scott & White in 1953 to serve African-Americans during segregation. (Scott & White Memorial Hospital and Clinc placed a headstone to honor her and her husband in February 2001. Their gravesites had previously been unmarked.)

[ TXBELL HOME PAGE ] [ CEMETERY CENTRAL ] [ BELL CO ARCHIVES ]
Copyright 2003 by Joe D. Deaver