Bell County Cemeteries
[ TXBELL HOME PAGE ] [ CEMETERY CENTRAL ] [ BELL CO ARCHIVES ]
McLean Cemetery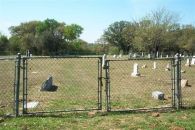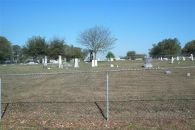 (photos courtesy of Mary Duke)

CEMETERY DETAILS

SITE/GRAVE PHOTOS
(Click above link to view marker photos)

RESEARCHERS OF THIS CEMETERY

ADDITIONAL NOTES
Inventory and photos performed March 2006
by Charlie Turnbo, Nancy Kelsey and Mary Duke
Project organized by Charlie Turnbo
THANKS TO OUR VOLUNTEERS!
CEMETERY CONTACT:

McLean Cemetery Association
Mr. W. A. "Rip" Warren
PO Box 362
Rogers TX 76569
The cemetery is located south of Roger on Becker Lane. Take FM 2184 South of Rogers to McLean
Cemetery Road continue south to Becker Lane. Go west .2 miles on Becker which is a gravel road.
The cemetery is located on the north side as the road curves.

HISTORICAL NARRATION
(provided by Mr. W. A. "Rip" Warren)
The McLEAN CEMETERY became know by that name in 1888, although there were some graves in and around the cemetery before that time, probably farm workers of Mr. McLean. The land however belonged to the Reed family at that time and was part of the Arocha and Morino grant.
The Read family came to Texas, joining the Robertson Colony. Patsey Reed widow of Jefferson Reed, mother to Miley Reed McLean, deeded the land to Milie McLean, wife of Duncan Calhoun McLean on August 27, 1885.
Sarah McLean mother of Duncan McLean died April 27, 1888, and is one of the oldest marked graves in the cemetery. It must have became a public burial ground about that time because soon to follow were Hugh Travis 1888, Laura Travis 1890, Mary McLean Halsey 1889, Mamie Halsey 1886, George Sprigs Halsey 1895, Dr. J. V. Price 1889, and Lucy Price 1890.
I have a bulletin which read – "On Saturday before the first Sunday in June a memorial service will be held at McLean Cemetery beginning at 9 am. Opening address by C. B. Cain, song service conducted by Messrs John Peoples and Will Harris, Come Friday before to prepare the grounds. Work days will be planned form time here after."
George Young who lived near by was the one person who knew the location of graves and always there to assist in opening and closing graves, that was in the pick and shovel days.
In 1962 Bell Dora Warren Foster, Alice Underwood and Estell Aycock, organized a group to clean the cemetery. Soon an organization was formed called THE McLEAN CEMETERY ASSOCIATION. Officers elected, funds raised and a chain link fence was put up around the cemetery. An effort was made to raise enough money for perpetual care but failed, the money then went into savings. Upkeep is from yearly contributions.
In 1972 the land around the cemetery belonged to Arthur McLean, was sold to Orval Gunter, one and two tenth acre. Mr. McLean found there were no deeds to the cemetery but he would have one drawn up and recorded. In 1978 I, W. A. Rip Warren, went through all records and with lots of help found none. Maybe they told him, like the told me cemeteries in the State of Texas need no deed because they were protected by law. The land around the cemetery now belongs to Dean Mikeska, a cattle rancher. Cattle make a mess. An effort has and is being made to purchase enough land beside the cemetery for a private parking lot.
President, Doyle L. Henderson
[ TXBELL HOME PAGE ] [ CEMETERY CENTRAL ] [ BELL CO ARCHIVES ]
2006 Copyright By Joe D. Deaver
Last modified: Sunday, September 10, 2006 10:11:12 PM